Background on how to pick the discipline and what ratings can be found here:
https://horseeden.com/blog.php?id=140614&b=5
All dates are in month/day format, sorry Europeans.
All of this uses the easy show page. If you`re not familiar with that, go toone of your barns and at the bottom of the page is a drop down menu next to``View``. Click ``showing``. You will thank me.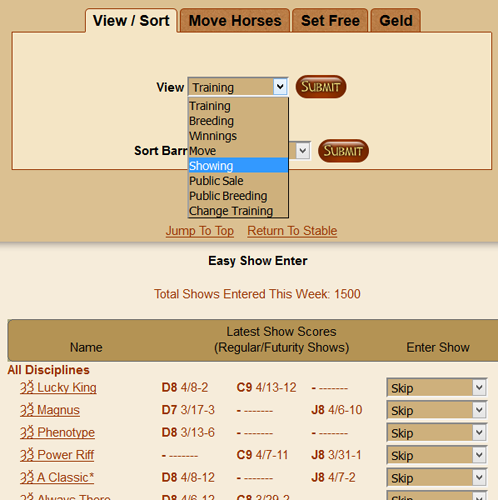 How to show without going insane

In a nutshell, horses that have green text for their showing info are "in the money", those with reddish-brown text aren`t, or they`'ve leveled up. Horses won't magically show up at green when they`'re ready to show. You have to enter them in shows for the text color to change. This guide assumes you're starting out with level 1 horses. If you have aged show horses, skip the following paragraph.

Loadsa money

With level 1 horses with zero training, you basically get to ignore them for the next five to six weeks, depending on their rating. With E rated horses, week 5, you can show them. P rated? Week six. This is to ensure they have enough training to show. At this point, shove them in shows and see how they do. If they place 8th or better? Keep showing. If they place 9th, wait till next week. 10th or worse, wait two weeks. How do you know how much training a horse has,you might ask. Just check the horse page above the show levels.
Also works for tracking training

In general, when it comes to leveling up, E rated horses need 4-5 weeks and Prated need 5-6 weeks. Using the easy show page, look at when the horse last showed and compare it against today`s date. Today is 4/15, and I`m looking at two E rated jumping horses that last showed on 3/17 and 3/13. That`s 4 weeks ago, which means the horses are ready to show. How am I getting these numbers,you might ask.

Minor math required

Grab yourself a calendar. Count this week`s Monday as 1 and then go back 4weeks. Using today (4/15), 4 weeks will be 3/20. Any E rated horses that leveled up before this date will be ready to show, assuming they haven`t leveled up several times since their last show. I`ll cover that later. Any P rated horses will require an extra week, so 3/13 for them. Most of these horses should be ready to show.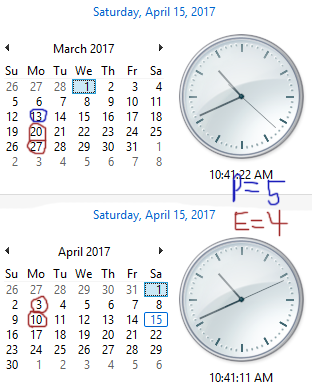 Worth it for money tho

Now, sometimes, horses that are ready to show will look like they`re not when they`re actually just throwing a spat. Put your cursor over the horse`s level(
This will only work on computers!
). A small popup will show what the horse`s last score is.

Questionable on if this guy is ready for showing; probably wouldn`'t enter him in shows

Note: this will only work for horses that are level D2+, C3+,and J3+. This information can give you a good idea on if your horse is ready or not. Here`s the scores you`re looking for:
Dressage: 70%+
XC: 17 and under
Jumping: 20 and under

If I showed a horse in XC and it pulled a score of 10 in its show, but placed10th, I`d enter it in another show because it meant that it was put in a show with a bunch of horses who were ready to level up. However, if it pulled a 10thwith a score of30, I wouldn`t show it for another two weeks.
What`s this ``another two weeks`` business I keep mentioning? Well, when a horse doesn`t do well, I don`t show them the following week. Say I'm looking at horses to show today (4/15) and I have three horses to choose from who all placed poorly in prior shows. Two weeks ago from Monday would be April 3rd;Horses A & B were shown on 3/31 but horse C was shown on 4/5. Using the two week method, horses A & B would potentially be ready to show.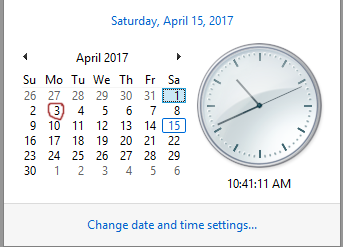 I would enter any horses who placed poorly prior to the 3rd

But what if a horse has leveled up several times since it was shown last?Simple. Look at the training. In general, you can expect 2 training bars per level. So if I ignored one of my horses and it`s level 6, I can assume that twill have at least 12 bars of training per trait. Realistically, this won`t always happen due to inherent weakness. So, I`ll enter if the horse has two traits where the bars = 2x the horse level.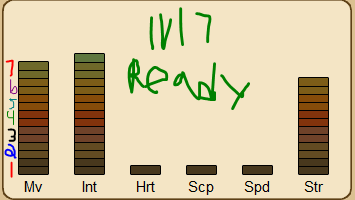 Leveled up on 3/17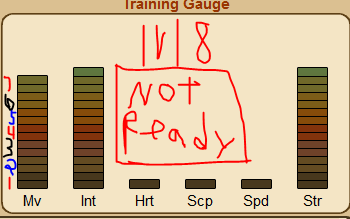 Leveled up on 4/9; note the difference between training bars and levels.

I`ll note here that if you have a horse that is level 6, and has the following training: 11 bars, 13 bars, and 13 bars, it`s a safe bet that it`s going to level up relatively soon. Another indicator is if the horse is getting a lot of first places.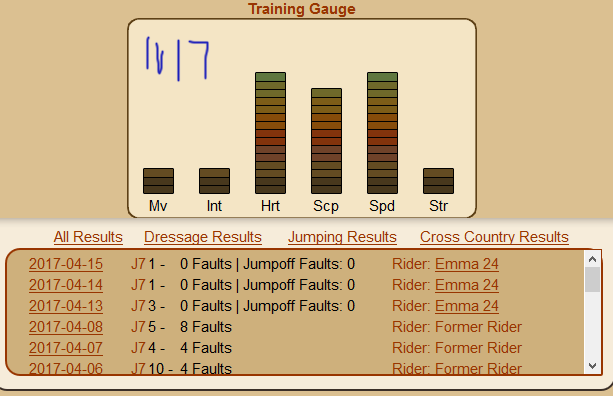 Gonna level up soon
Edited at April 15, 2017 11:53 AM by Eurynome